With the ubiquity of cloud solutions such as Dropbox, Google Drive, and Microsoft's OneDrive, it seems irrelevant to have files stored on a home computer. However, with the new revelations about online privacy and security such as Gmail reading our emails and Facebook conducting psychological experiments on their users, keeping information on a private server becomes more appealing. Furthermore, advantages such as no subscription fees for more cloud storage and making your photos and videos accessible to others add more value to creating a home server. Finally, creating a home server can be relatively simple and low cost for the benefits that it provides.
The following is a short list of various features you can set up on a home server:
File backup
Access files from the internet
Host a Photo Gallery on the internet
Stream Video and Audio files to any internet connected computer/mobile device
Create a Virtual Private Network to bypass security restrictions at work/school
Download files directly to your server from any device connected to the internet
Create a website
Simply put, a server is a computer that provides functionality to other computers through a network. Enterprise level servers are designed to provide functionality to hundreds or even hundreds of thousands of users. Since a home server is only accessed by a fewer users, any computer is suitable for a home server setup.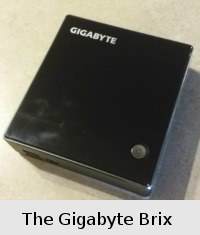 Some examples include old desktops or laptops. Even an old smartphone can be turned into a server. If you plan on purchasing a computer to act as a server, also consider used computers. Even a five-year-old laptop will most likely have enough processing power. As long as there is a network port (an RJ45 ethernet port), the computer will work well as a server. I purchased a Gigabyte Brix Ultra Compact PC to act as a server because of it's size, simplicity, and price. The version I purchased had room for only a mSata Solid State Drive (SSD); however, newer versions also has additional space for a 2.5" hard drive, which is found in most laptops. Since I purchased a new Gigabyte Brix (as well as RAM and a SSD), it cost about $400 CAD, but if you use an older laptop or computer, you do not need to purchase anything new.
Once hardware is selected, the next step is choosing appropriate software. While licensing fees for Microsoft-based servers is several hundred dollars, a Unix-based server is free. Unix based servers run more than 70% of the world's internet. In addition, Android devices are also built on Unix, making Unix one of the most used operating systems in the world. (Some examples of other operating systems are Windows and Mac OS X). Linux is a user-friendly subset of Unix, and is easy to install. The Linux distribution I chose to run is Ubuntu because it is geared towards consumers, making is more user-friendly to setup and use. For simplicity, Ubuntu desktop offers a User Interface (UI),  like Windows or Mac OS X, that is easier to work within. Other alternatives include Arch Linux, Fedora Linux, and OpenSuse Linux. Any of these operating systems can be installed from a CD or USB memory stick. Therefore, the only additional materials to setup the software is a CD or USB memory stick.
In preparation to setting up a Home Linux Server, the following materials are needed:
Computer/Laptop with at least
700 MHz processor
512 MB RAM
5 GB hard drive space
CD/DVD drive or USB port for the installer
Internet Access
CD or USB memory stick for installing Ubuntu.
Another computer to create the install CD/USB
Subsequent posts will include setup and install instructions for the server and software within it.
Up Next: Setup and Installation of an Ubuntu Server.
Support Us!
Thank you for reading this article. If you found it useful, please consider buying us a coffee, subscribing to the YouTube Channel, and/or changing your Amazon bookmark to our affiliate link (CAN, USA, UK). We do this out of general interests and to help others. Thanks!